Lead Your Value, For Better Life
factory

Automation equipment
EAGLE VET ensures timely, stable
production by maintaining cutting-edge automation facilities.
Completed in November 2014, Eagle Vet's EU GMP-certified factory is equipped with advanced automation facilities. In a bid to pre-empt risks associated with cross-contamination and improve the quality of animal medicine, we furnished the new factory with cutting-edge equipment, such as auto vial washers and tunnel sterilizers, as well as high-priced facilities such as RABS (Restricted Access Barrier Systems) for injectables and bin blenders for producing soluble powders. These initiatives have maximized our productivity and efficiency, thus guaranteeing fast, reliable production.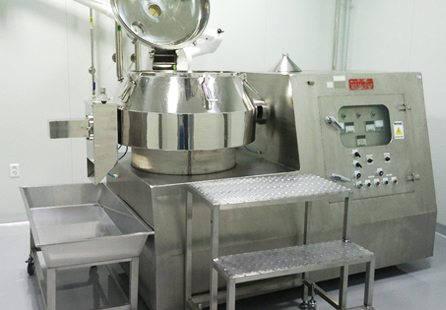 Speed Mixer
It is used in the process of making the raw materials to be mixed into particles of similar size.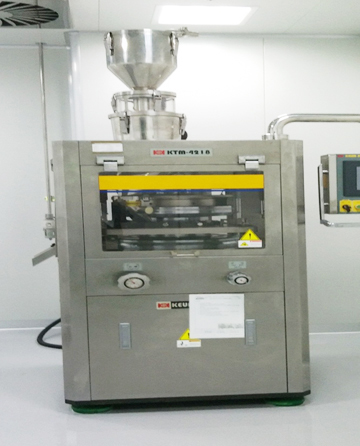 Rotary Tableting Machine
Rotary Tableting Machine.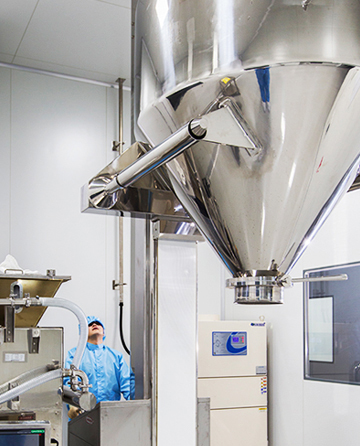 IBC Blending

(IBC Blender & Powder Filling Machine)
These are equipment to prevent cross-contamination, the riskiest factor in
medicine production. The equipment minimizes cross-contamination by enabling the blender to mix
raw materials and directly install the bin at the filling machine when
soluble powders are manufactured.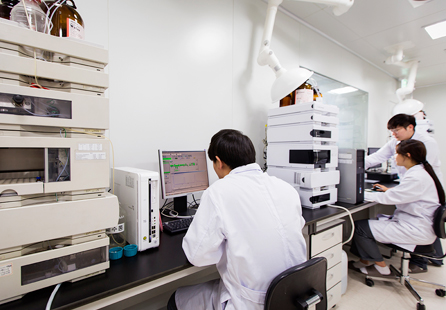 HPLC(High Performance Liquid Chromatography)
HPLC installed in Quality Control Lab. is essential for qualitative and quantitative analysis.
100 samples can be automatically injected to extract the analysis results, and the data processing system conforms to CSV(Computer System Validation), and the security is thorough, and data tracking is easy.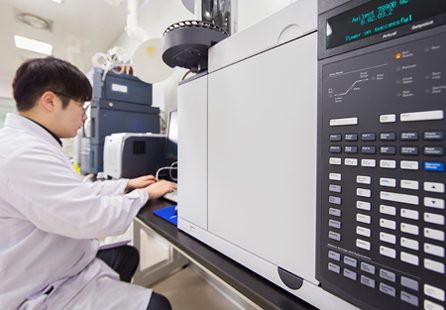 GC (Gas Chromatography)
Gas Chromatography GC is an essential instrument for analysis, qualitative and quantitative analysis of residual solvents in raw materials and products. 50 samples can be analyzed unattended automatically.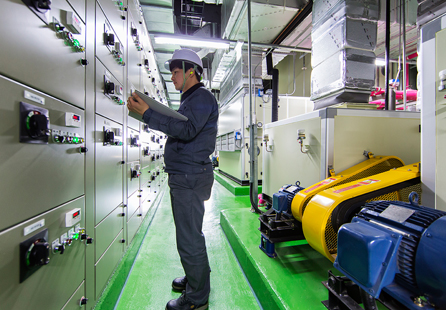 HVAC SYSTEM
It is a facility to supply sterilized air to maintain a clean manufacturing environment for pharmaceutical production.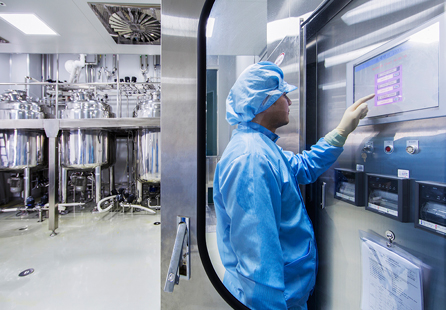 CIP / SIP System
In the case of liquid formulation and liquid injection preparation system, CIP / SIP system is installed and perfect cleaning is performed after production. This is effective in preventing cross-contamination and preventing microbial contamination.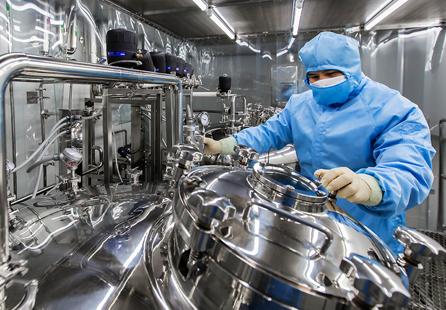 Preparation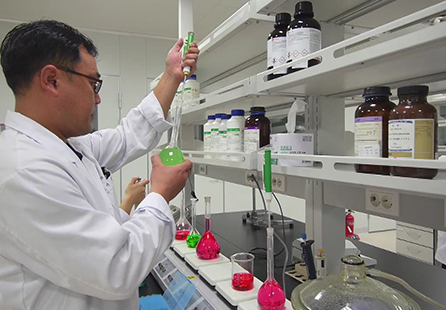 Laboratory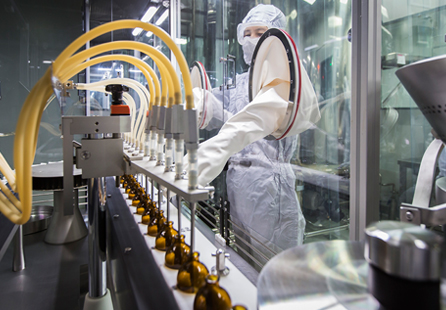 RABS: Restricted Access Barrier System
RABS, a state-of-the-art pollution prevention system, was installed at the injection plant to establish a high quality management system with different dimensions.
RABS is installed in processes that can be exposed to artificial pollution such as filling, sealing and capping of injections to prevent contamination by using installed gloves without opening the equipment even in the case of set-up, cleaning and vial removal.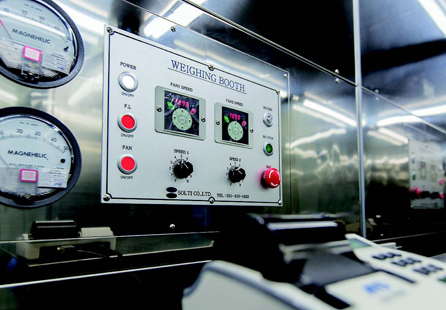 Weighing Booth
If the raw material is exposed to the outside, cross contamination may occur, and if foreign matter is incorporated, it may affect product quality. For this reason, our factory has installed the weighing booth by the formula, and also the process is operating under laminar flow to prevent cross contamination and dust generation during weighing.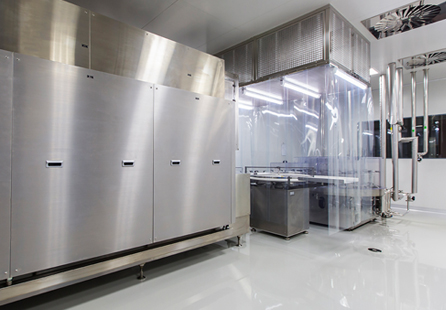 Tunnel Sterilizer
Injections undergo stricter quality control and rigorous production processes than other products.
The tunnel sterilizer installed in our factory is a cutting-edge facility to sterilize injection vials at 300 ℃ after automatic cleaning of injection glass vials to prevent cross contamination of infectious agents and microorganism contamination.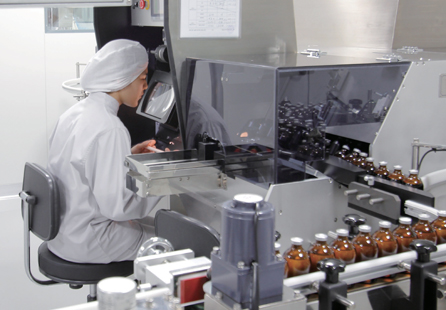 Visual Inspection Machine
Our factory has a state-of-the-art particle inspection machine and strivies for perfect quality control.
A foreign body inspection system installed in the new building is a device for checking whether or not foreign matter is mixed in, and it is possible to inspect 2,500 vials per hour.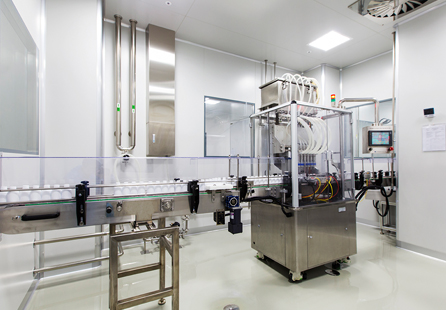 Filling Room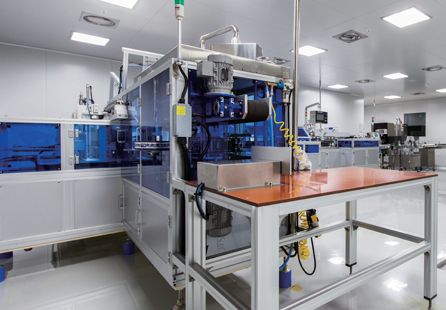 Packaging Machine
The packaging stage, which is the final step in the production of injectables, is also carried out quickly and accurately by using automatic packaging machines.
Especially, the automatic packing machine installed in the injection manufacturing line of the new plant can process the injection label, insert paper, case packing and box packing all at once.
This post is also available in: Korean

서울사무소 :

080. 022. 6644

반려동물제품문의 :

02. 464. 2031

Fax : 02. 469. 0309
E-mail : info@eaglevet.com
EAGLE VET. TECH Co., Ltd.
Personal information manager : Sung-ho choi
Seoul office :

: 82-2-464-9065

Companion animal product inquiry :

82-2-464-2031

Fax : 82-2-469-0309
E-mail : info@eaglevet.com