Lead Your Value, For Better Life
ABOUT CMO

ABOUT CMO
Eagle Vet is now soaring
towards a new world
by expanding its global footprint.
CMO
Eagle Vet is at the frontier of the animal healthcare industry, but today we are taking a huge step forward after the construction of a new factory that conforms to EU-GMP standards.
We are determined to stand tall as a leader in the animal healthcare market by adopting advanced facilities, guaranteeing stable production and strict quality control, and developing new products in a pre-emptive manner.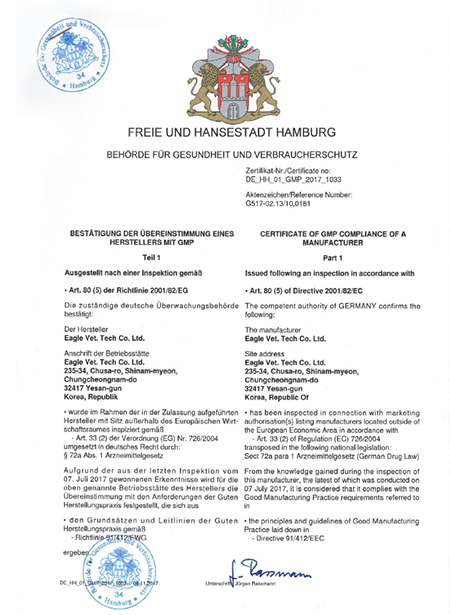 Equipment
EAGLE VET ensures timely, stable
production by maintaining cutting-edge
automation facilities.
Completed in November 2014, Eagle Vet's EU GMP-certified factory is equipped with advanced automation facilities. In a bid to pre-empt risks associated with cross-contamination and improve the quality of animal medicine, we furnished the new factory with cutting-edge equipment, such as auto vial washers and tunnel sterilizers, as well as high-priced facilities such as RABS (Restricted Access Barrier Systems) for injectables and bin blenders for producing soluble powders. These initiatives have maximized our productivity and efficiency, thus guaranteeing fast, reliable production.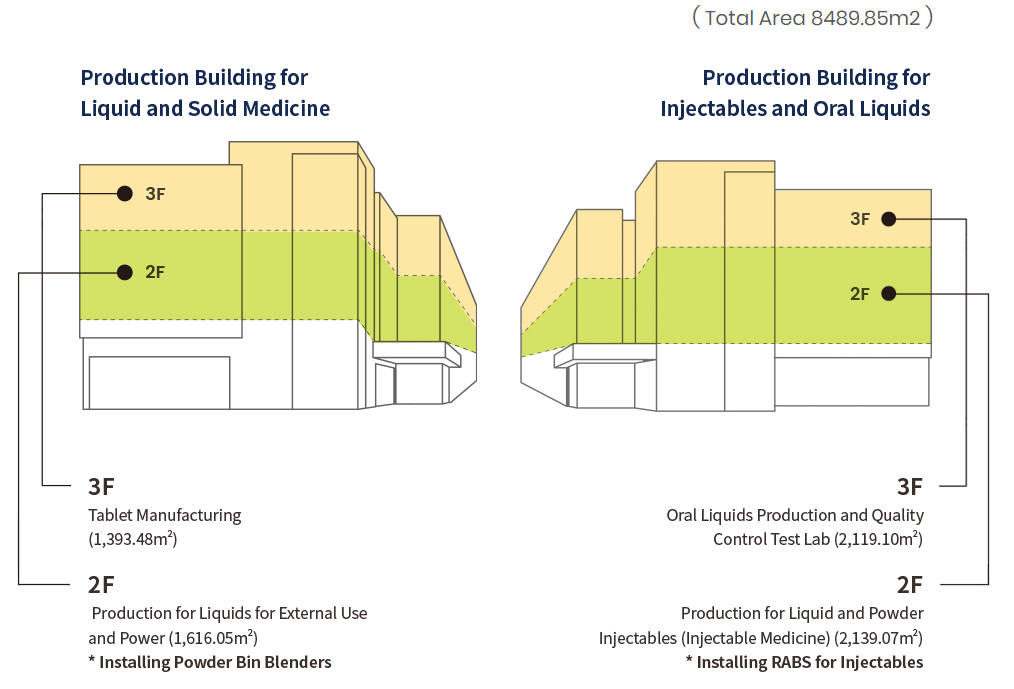 Ability
Eagle Vet has improved its production
capacity by establishing advanced
facilities at the new factory.
With the new factory, Eagle Vet has secured the ability to produce high-quality products not only faster but also in a more stable way. As a point of fact,
cutting-edge automation equipment at the new factory is expected to contribute to bolstering our annual production, leading to an expansion of our exports and
an increase of deals in the CMO (Contract Manufacturing Organization).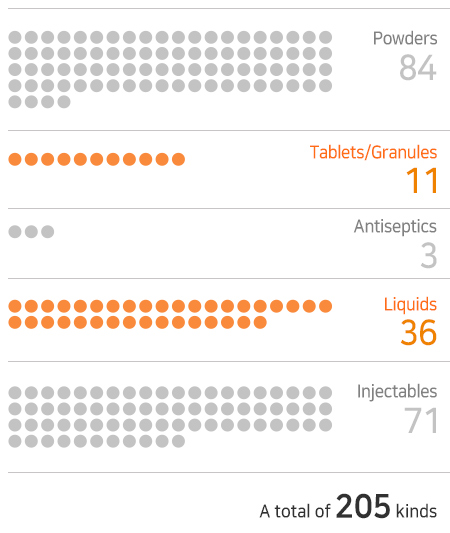 New Factory's Annual Production Capacity
(8hrs/day, 240days/year)

서울사무소 :

080. 022. 6644

반려동물제품문의 :

02. 464. 2031

Fax : 02. 469. 0309
E-mail : info@eaglevet.com
EAGLE VET. TECH Co., Ltd.
Personal information manager : Sung-ho choi
Seoul office :

: 82-2-464-9065

Companion animal product inquiry :

82-2-464-2031

Fax : 82-2-469-0309
E-mail : info@eaglevet.com